PUB Gfx Tool – Merupakan sebuah aplikasi atau tools yang berfungsi untuk memberikan performa saat bermain game PUBG Mobile. Selain untuk meningkatkan grafik, aplikasi PUB Gfx Tool v.0.17.1p Apk Plus Version ini sudah dapat meningkatkan experience. Sehingga kamu akan lebih nyaman disaat dalam permainan
Download PUB Gfx Tool Apk Plus Version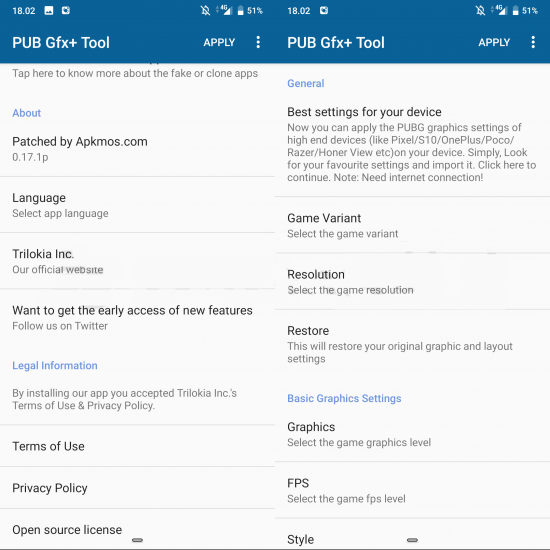 Aplikasi ini sangat direkomendasikan bagi yang memainkan PUBG Mobile di Hp low-end supaya bisa meningkatkan grafik gamenya. Pada aplikasi ini adalah versi Plus nya yang sudah tersedia fitur advanced setting yang tentu memiliki fitur lebih lengkap dibanding versi free.
Cara Install PUB Gfx Tool Apk Plus Version
Download terlebih dahulu PUB Gfx Tool Apk Plus Version lewat tombol download di atas
Uninstall PUB Gfx Tool yang sebelumnya jika pernah di install
Masuk ke menu Settings – Security – izinkan Unknown Source (sumber tidak diketahui)
Lalu jalankan installer Apk yang di download tadi
Settings sesuai dengan keinginan
Klik apply atau terapkan, maka akan secara otomatis masuk ke game PUBG Mobile
The Key Features of PUB Gfx + Tool :

Game Variant: Choosing the version of PUBG Mobile game that you are playing. Here are three options including Global, China and Korea beta. You need to select the correct version for the application to work.
Resolution: Depending on the resolution of your phone's screen, you can choose lower resolution than the default setting so that the game is smoother. Of course, the in-game image quality will be reduced.
Restore: This feature allows you to set all default settings, so you can change many settings until you choose the best configuration.
Graphics: Adding custom graphics settings. By default, there are only three options: High, Medium and Low. PUB Gfx + Tool offers five levels: Default, Smooth, Balanced, HD, HDR.
FPS: Unlock FPS, there are four levels: Default, High, Ultra, and Extreme. This feature allows the player to play the game at the highest FPS.
Style: Changing the graphics style with five levels: Classic, Colorful, Realistic, Soft
Shadow: This feature allows you to enable or disable shadows of the objects in the game. Shadow is one of the key factors affecting the smoothness of PUBG Mobile. If you are using low-end devices, you should turn it off.
MSAA: Enable or disable the antialiasing feature, the game image will be better. You can view the distance objects easier.
The Advanced Features of PUB Gfx + Tool :
Zero Lag Mode + Battery Efficient: Reduce the lag to the maximum when playing games on low-end devices. Besides, enabling this feature can help your device save battery.
Hardware-Accelerated Rendering: Currently, this feature only supports VULKAN and OpenGL 3.1+
GPU Optimization: You can customize the OpenGL shaders so that the game runs smoother.
Memory Boost: Enhance the performance of the game
Smart widget: Now, you do not need to open PUB Gfx + Tool (With Advance Setting) to run the game anymore. The application allows you to create a shortcut at the home screen, so you guys can open the game immediately with the optimized configuration.
Ikuti terus perkembangan Dafunda Download untuk mendapatkan update software dan game-game menarik lain secara gratis. Jangan lupa untuk bagikan juga artikel ini kepada teman atau kerabatmu. Supaya mereka bisa mendapatkan software yang serupa.
LAPOR LINK
Jika ada link yang error atau rusak, kamu bisa melaporkan melalui email: dafundadownload@gmail.com. Jika kamu adalah pemilik aplikasi atau game dalam artikel ini, kamu juga bisa melaporkannya ke email yang sama. Terima kasih telah berkunjung dan jangan lupa dibagikan kepada teman lainnya, supaya mereka juga kebagian.
Download PUB Gfx Tool Terbaru untuk Android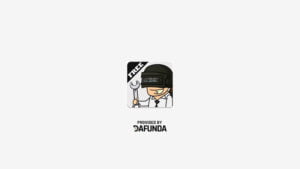 PUB Gfx Tool - Merupakan sebuah aplikasi atau tools yang berfungsi untuk memberikan performa saat bermain game PUBG Mobile. Selain untuk meningkatkan grafik, aplikasi PUB Gfx Tool v.0.17.1p Apk Plus Version ini sudah dapat meningkatkan experience. Sehingga kamu akan lebih nyaman disaat dalam permainan
Harga Mata Uang: IDR